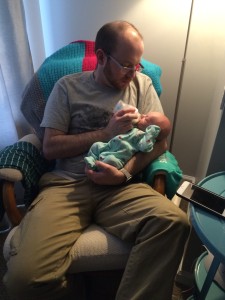 I have known Justin Moore as many things over the years. He was a great guy when I met him, a best friend as I got to know him, an amazing boyfriend while I dated him, the greatest husband when I married him…and in the last almost four weeks I've gotten to know him as a daddy to our beautiful Hannah Joy. I know that what I'm going to say will seem biased because I'm his wife but I'm confident that anyone that knows Justin will know it's true.
Justin has always been there for me. I've been amazed by all the things I've learned about him through the years and all the ways that he has grown as a person and in each of these roles. He has always taken care of me and put me first. He isn't afraid to say what he thinks and protect those that he loves and cares for. He loves me so deeply and I see it every day in the ways that he serves me and sacrifices for me. He is a hands-on guy and always works as a team with me. He is confident and willing to try new things. He is a man of many talents and skills. If you ask him he would say he is a "jack of many trades but master of none." I don't remember the last time we had to call a handy man to fix something. I didn't know that about him when I met him but I've seen his talents grow over the years. Words can't express to you what this man means to me. As I sit here trying to type it out with my sleep-deprived, newly-a-mother mush brain, I'm disappointed by my ability to describe Justin and how much he means to me.
I thought I knew all there is to know about Justin in the 14 years I've known him. Boy was I wrong. On March 17-20th I got to know him in a whole new way. While I labored for many hours in the anticipation of Hannah's arrival, he was all the categories I described above to me. He walked along side me every step of the way (which wasn't a surprise). He showed confidence and care as well as sweetness and tenderness. He was my rock. There is no way I could have made it through the 60+ hours of labor without him. My favorite part was watching him become a daddy. I watch him in a whole new role. The first time he held her I never wanted to look away. How precious to see such an enormous love he had for little Hannah. Over the next hours and days I continued to see him embrace our little girl, change diapers, swaddle like a boss, get up throughout the night to help me and Hannah. He never wavered. He was so strong for us both and made it look simple when I know it wasn't. He continues to step up and help with diapers, swaddling, changing clothes, taking care of me and bringing me anything I need. He is always there and when he gets home from work he can't wait to scoop little Hannah up and cuddle with her. There is no question how much he loves me and Hannah. He is an amazing dad and I can't wait to watch his love for her grow in the years to come and see just how much she will have him wrapped around her finger. There's nothing he wouldn't do for her and I'm so grateful and unbelievably blessed to have him as my husband and the father of my beautiful girl. He says I'm the strong one but I think together we are strong! I love you Justin!